Race Week Packet Pick-Up & Registration
The 2020 Platte River Half Marathon & Buckhorn Exchange Relay has been cancelled. There will be no packet pickup or expo this year. Currently, registration is only open for the virtual race option. Registration for the virtual run closes on March 25th at 1:00 pm MST.
Friday, April 3rd -11:00 a.m. to 6:00 p.m. at Breckenridge Brewery: 2920 Brewery Lane, Littleton, CO 80120
Saturday, April 4th – 10:00 a.m. to 4:00 p.m. at Runners Roost: 1685 South Colorado Boulevard Denver, CO 80222
Please come prepared with your ID and your bib number. Your bib number should come on Friday morning via e-mail from our registration company. You can also look it up on-site if needed. You may pick up someone else's packet with a copy of that person's ID as well. One member of a relay team can pick up everyone's packets.
Race Day Registration and Pre-Registration Packet Pickup
There is no race day registration or pre-registration packet pickup in 2020.
Location: Downtown Littleton RTD Parking Lot at corner of Prince Street and Alamo Avenue.
Sunday, April 5th 6:30 a.m. to 7:45 a.m. At the RTD Parking Lot at the corner of Prince Street and Alamo Avenue in downtown Littleton.
Due to the cancellation of the 2020 race, the only running option will be the virtual race.
You can still register for the virtual race here: Virtual Race Registration.  Virtual Race registration will be open until 1:00 pm MST on March 25, 2020.
You'll receive all of the race swag that you would normally get: shirt, medal, bib, finisher's cup, and koozie. The Virtual Race is to be run on your own – your choice of time, place, and date. The Virtual Race must be completed and submitted by Sunday, April 12, 2020. Entries received after that date will not be accepted. Once you've run the 13.1 miles, all you need to do is submit your run time via this link: Virtual Race Result Submission.  Then send proof of your time (Strava, Garmin data, photo of your GPS, etc.) to info@timberlinetiming.com. Your results will be posted to the official Platte River Half Marathon website.
In order to get your race swag, you can pick everything up at the Runner's Roost Denver location or you can have it mailed to you (make sure your address and contact info are up to date in our system). All Virtual Race swag can be picked up at Runner's Roost from April 13th to April 30th or will be mailed by April 30th.
As an added bonus, you'll get $20 off your 2021 registration! After we accept your results, we'll send you an email with a special $20 discount code to be used for the 2021 Platte River Half registration during the month of May (2020). We'll open up registration for all of May and give you the best price possible for the 2021 race!
Starting Line
In downtown Littleton, south of the intersection of Prince Street and Alamo Avenue near where Little's Creek Trail starts.
The race starts at 8:00 a.m.
Parking
At the start:
The Littleton-Downtown Light Rail Station at Alamo Avenue and Prince Street
Littleton Center at Prince Street and Berry Avenue
Arapahoe County Building at Crestline Avenue and Prince Street
DO NOT PARK in any Arapahoe Community College parking lots. You might be ticketed or towed if you park in these lots.
South of the start:
The Mineral Light Rail Station at Santa Fe Drive and Mineral Avenue.The Light Rail from the Mineral Station to the Littleton-Downtown is a 3 minute ride.
The race start is within walking distance west of the Littleton-Downtown Station.
Course Map and Relay Exchange Points
Link to Course Map: COURSE CERTIFICATION MAP.   The finish line is on Mariposa Street between 9th and 10th.
The relay will consist of three legs of 5 miles, 5 miles and 3.1 miles.
The first exchange point is at the Englewood Golf Course just north of Oxford Ave. Take Santa Fe Drive north to Oxford Avenue. Go west on Oxford Avenue. Utilize the parking lot on the north side of Oxford Avenue on the west side of the Platte River. A volunteer will direct the 2nd runner to the 5-mile marker, which is a just north of the roundabout on the east side of the Platte River.  Overflow parking is in the golf course parking lot, far west side by the bathrooms.
The second exchange point is located near Vanderbilt Park in Denver. Take Santa Fe Drive north to Alameda Avenue. Go west on Alameda, crossing I-25. Turn left onto South Platte River Drive. South Platte River Drive will turn into Jason Street. Follow Jason Street south until you reach Exposition Avenue.  Go East on Exposition Ave. to where it intersects with Huron St.  There will be an aid station at this intersection.  Parking on the street nearby is your best bet.  The actual exchange zone is just north of where runners go under Santa Fe on the bike path.
Additional Course Information
Each mile will be marked, courtesy of our Mile Marker Sponsors.
Split times will be the responsibility of each runner.
For safety reasons we ask you to refrain from running with dogs and baby joggers/strollers during the race.
The Platte River Trail is a multi-use trail and will be open to other exercise enthusiasts during the race.  Please be respectful of their use of the trail.
Transportation to and from exchange points is the responsibility of the relay teams.  One vehicle/team should be sufficient.
Finish line support will close at 11:00 a.m. (13:45/mile pace)
Aid Stations
There will be a total of 6 aid stations
Approximate locations are at each two-mile interval (Note that the mile 6 aid station is closer to 6.25)
Serving water and Nuun electrolyte replacement drink in lemon-lime and strawberry lemonade flavors
Portable toilets will be at or near the aid stations and at each relay exchange point
Baggage Check-in
Southeast of the start in the RTD Bus circle.
Attach the baggage tag from the bottom of your bib number to either a bag that you've brought or the Asics bag supplied by the race with your clothing.
Bags will be transported to the finish line.
There is no baggage check provided to and from the relay exchange zones.
The race is not responsible for lost or damaged bags or personal items.  We will do our best to make sure your bag makes it safely to the finish line.
$2,000 USATF Colorado Half Marathon Championship Race Prize Purse
The Platte River Half Marathon is part of the USATF Colorado Long Distance Race (LDR) Championship Series (USATF CO). Runners wishing to participate in the USATF Colorado Half Marathon Championship must have a current and valid USATF membership with the Colorado Association. If you would like to join USATF, please click here.
USATF Colorado Prize money for this race is as follows:
• Open Men and Women: 1st $400, 2nd $200, 3rd $100
• Masters Men and Women: 1st $150, 2nd $100, 3rd $50
USATF Colorado Masters age group medals will awarded for first, second, and third place in 5 year increments.
You do not need to be a USATF member to participate in this race. However, you must be a member of USATF to be considered for USATF Championship awards.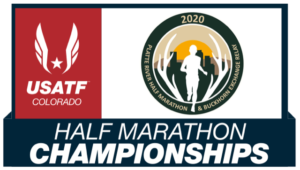 Post Race Party
Lunch provided by the Buckhorn Exchange and our other sponsors. Our post race clebration was awarded the Best Post Race Party of 2012 by Competitor Sports. Live entertainment will be provided at the finish. (Lunch for participants only.)
Return Transportation
Return transportation will be from the 10th and Osage station to the Downtown Littleton station, about a 15 minute ride.  RTD Light Rail passes will be provided to each participant following the race.  For more information on the Light Rail visit www.rtd-denver.com.
Event Records
Male: Jason Delaney 1:08:48 ('09)
Female: Anna Pichrtova 1:16:02 ('05)
Men's Master: Andy Ames 1:12:24 ('07)
Women's Master: Tanya Poel 1:23:58 ('07)
Awards
Overall awards will be given to the top three male and female finishers both Open and Masters (40+).  The award ceremony will be on the stage at 11:00 am.  Age group and relay awards will be mailed to the winners.
Men and women age group awards in the half marathon will be presented to the top three finishers in the following age categories; 19 and under, 20-24, 25-29, 30-34, 35-39, 40-44, 45-49, 50-54, 55-59, 60-64, 65-69, 70-74, 75-79 and 80+.
Relay awards will be presented to the top three male, female and co-ed teams.
Open and Masters award winners will be excluded from the age group awards.
Roi Davis Trophy
Roi Davis, co-owner of the Buckhorn Exchange, avid runner and supporter of the Platte River 1/2 Marathon and Buckhorn Exchange Relay, passed away suddenly on May 20, 2005. In memory of Roi, the male and female winner and the oldest finisher each year will be recognized with their names engraved on a trophy that will remain at the Buckhorn Exchange Restaurant.
Spectators
Spectators can watch the first two miles of the race in Downtown Littleton and then purchase a Light Rail ticket to the finish at the Buckhorn Exchange located at the Light Rail Station at 10th Avenue and Osage Street.